About Us
USANA manufactures the highest-rated, most effective nutritional supplements and health care products in the world. Our products are the best money can buy.
We offer our products to customers through a process called direct selling. Direct selling is a little different. It's not the status quo. It's not how people are used to buying what they want—after all, wouldn't it be easier if you could just pick our products up at the grocery store? Yeah, we get that a lot.
Here's why we do what we do. We didn't just want to give you the opportunity to take the best wellness products in the world. We wanted to give you the opportunity to make your life the best it can be. And this includes having physical health as well as financial health, so you can buy what all of us really want: freedom to do what we want, when we want.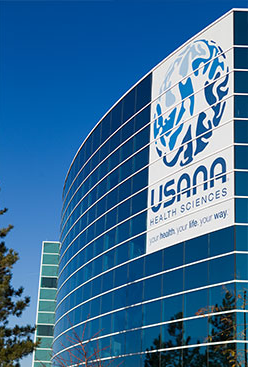 So yes, it's different. But here's the best part. USANA understands direct selling just as much as it understands nutritionals. Which is, we get it. In fact, we're the best at what we do, and we can prove it. We win awards for our products, and we win awards for our business opportunity.
Our focus on personalization—in our product line and with owning a USANA business—allows you to think about your personal choices in life and how your everyday behaviors have an impact on your overall quality of life.
Meet The Founder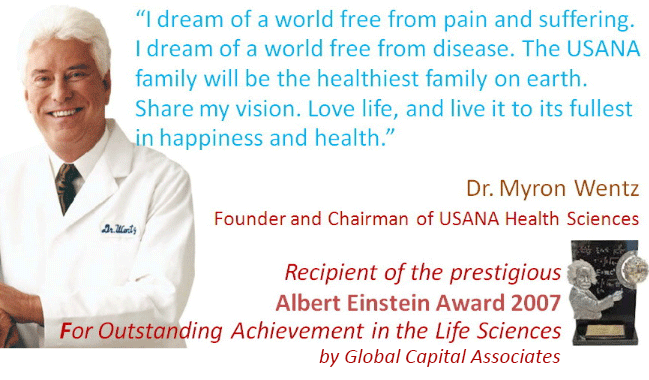 Dr. Myron Wentz, internationally recognized microbiologist, immunologist, and pioneer in the development of human cell culture technology and infectious disease diagnoses, holds a bachelor's degree in biology from North Central College in Naperville, Illinois, a master's degree in microbiology from the University of North Dakota, and a Ph.D. in microbiology and immunology from the University of Utah in Salt Lake City.
Dr. Wentz launched Gull Laboratories as a one-man operation in 1974. By June of 1977, several of his viral diagnostic assays were FDA-approved and ready for marketing to hospitals and clinical laboratories. He developed the first commercially available test for diagnosing infection with the Epstein-Barr virus. Dr. Wentz sold his controlling interests in Gull Laboratories in 1992 and founded USANA Health Sciences, a state-of-the-art manufacturer of nutritional supplements, foods, and personal-care products.
In addition to Gull Laboratories and USANA Health Sciences, Dr. Wentz created Sanoviv Medical Institute, a holistic medical facility with full hospital accreditation located in Baja California. In recent years Dr. Wentz has turned his attention to charitable and humanitarian concerns, founding the Wentz Medical Centre and Laboratory in Uganda and the Wentz Medical Centre in Cambodia to serve children in those countries orphaned by diseases such as malaria and HIV.
Tablets / Bottle: 112 A balanced magnesium and calcium supplement fortified with vitamin D. Your bones are the foundation of your healthy lifestyle. Support them with our perfectly balanced USANA® MagneCal D™. The secret is equal amounts of magnesium and calcium plus advanced levels of vitamin D. This supports a more ideal ratio of these nutrients in [...]