DO YOU DREAM OF OWNING YOUR OWN BUSINESS?
Working for yourself sounds great but the costs and work required to start up a new conventional business can be staggering.
Even established business owners find themselves chained to high overhead costs while waiting for clients to come to them.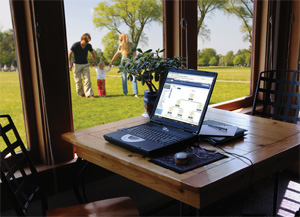 FORTUNATELY, THERE IS A BETTER OPTION.
Many have turned to Direct Selling to make their business dreams come true. Direct Selling is the distribution method employed by USANA Health Sciences, where products are sold person-to-person, away from a fixed retail location.The dream of owning your own business isn't far fetched. In fact, it's more easily attainable than you may think.
USANA is a way to make your business dreams come true, and it can also help you create a better life. We don't follow a typical business model, though. We're a direct selling company, which is a unique way of selling products person-to-person, rather than from an expensive, brick-and-mortar retail location.
AND MORE:
NO SET HOURS
NO EMPLOYEES
NO OVERHEAD
NO INVENTORY STOCKING
CREATE LEVERAGED INCOME
PORTABLE BUSINESS
CREATE POTENTIAL FINANCIAL FREEDOM
SPEND MORE TIME WITH YOUR FAMILY
BUILD ASSET VALUE
LEAVE A LEGACY TO YOUR LOVED ONES
Set yourself free –Join the right trend
THE WELLNESS INDUSTRY
Start your own home-based business opportunity
BE YOUR OWN BOSS. Flexible and self-directed workweek. You set your hours. You control your success.
WORK AT HOME. No commute or rush-hour traffic. Live and work wherever you want—watch your children grow up.
MAKE A DIFFERENCE. Improve the quality of people's lives by sharing products and a business opportunity that can help them achieve their dreams.
GREAT INCOME POTENTIAL. You are paid what you're worth. You decide how much you earn.
AVAILABLE TO EVERYONE. No experience required. Training is provided and allows you to earn as you learn.
TIME FREEDOM. Your life is your schedule. Work when you want and how much you want, part time or full time.
Tell us about you
Fill the form below to receive more information :
* Request Information:
All the fields below are required and must be completed. Rest assured that all personal information is kept strictly confidential.
Statement of typical participant earnings
The earnings portrayed in this literature are not necessarily representative of the income, if any, that a USANA Associate can or will earn through his or her participation in the USANA compensation plan. These figures should not be considered as guarantees or projections of your actual earnings or profits. Any representation of guarantee of earnings would be misleading. Success with USANA results only from successful sales efforts, which require hard work, diligence, and leadership. Your success will depend on how effectively you exercise these qualities.